If you've been a follower of my blog for some time now, it is evident that personal finance is a very big concern for me. I want to be in the best financial position always. I think its important to teach people about savings and personal financial goals and responsibilities. I want to share with you three of my favorite savings apps that have helped me to save lots. Money saving apps can make the process of saving money easier over time. You can fill your piggy bank automatically so that savings goals can be met without stress.
Digit is a smart financial assistant, helping you to achieve your goals. Without even thinking about it. Pay off debt, plan a vacation, save for a house, or, put a little aside in a rainy day fund. Save your money, easily and securely, with Digit. … And automatically moves the perfect amount to a secure Digit account. The major benefit of Digit is that it enables non-savers to save money. That's no small benefit either. The most recent Go Banking Rates savings survey indicates that 57% of Americans have less than $1,000 in savings, and a staggering 39% have no savings at all. No matter what you have to save money for digit is an effective way to save for it.. Digit costs $2.99 a month to use their service. —You cannot make deposits or withdraw money via Digit's website.
Digit calculates what you can save based on your income and spending patterns, and transfers that amount from your checking into an FDIC-insured Digit account. It typically makes two or three savings transfers per week. There's a 30-day free trial period when you sign up for Digit, but after that, it costs $5 per month.
Perk: You'll earn a 1% annual savings bonus paid every three months, based on the average daily balance kept in your Digit account during that period.
Downside: Digit charges a $5 monthly fee. Because the amount taken out of your external checking account can vary, a Digit transfer could cause an overdraft on that account. Digit refunds up to two overdraft fees triggered by Digit transfers, but you can set up the app to limit the daily amount saved.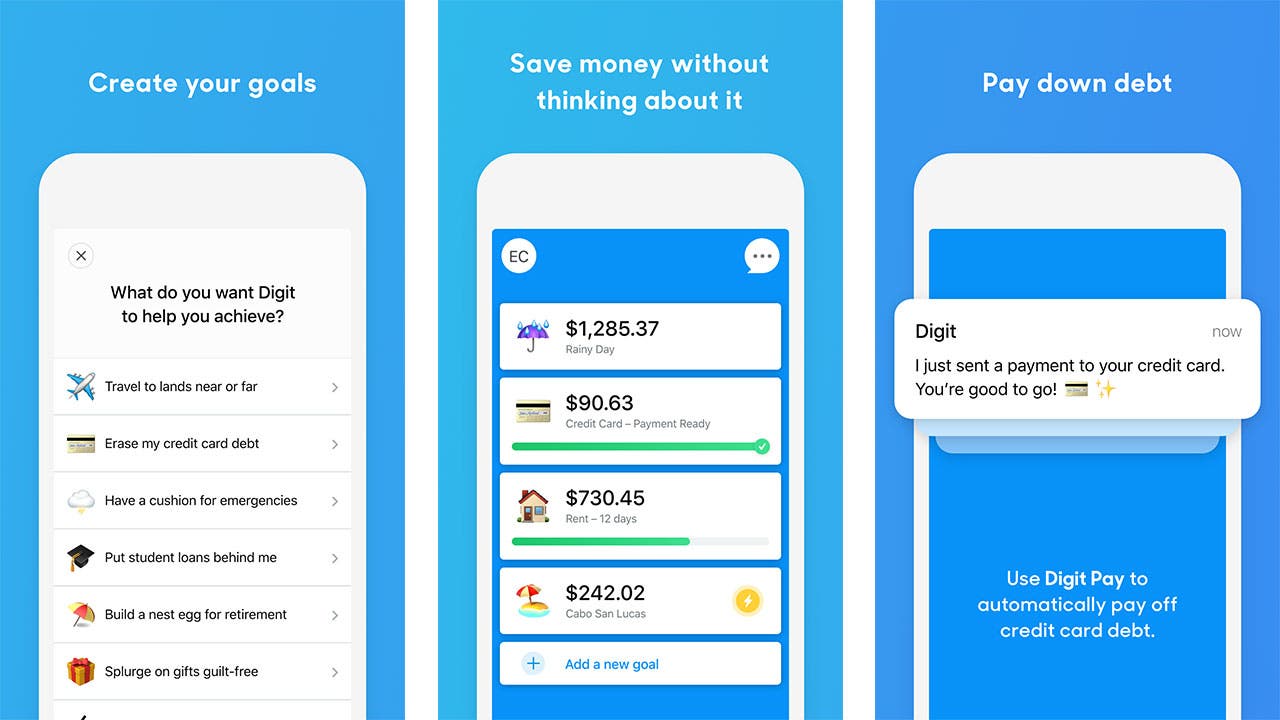 2. Acorns is an investing app lets people automatically invest their spare change by rounding up the purchases they make with a linked credit or debit card. The only micro-investing account that allows you to invest spare change. Set up in under 5 minutes and automatically add money to your diversified portfolio.
Acorns has modernized the old-school practice of saving loose change. Acorns works by rounding up your purchases on linked credit or debit cards, then sweeping the change into a computer-managed investment portfolio. That approach is certainly a useful tool to save more. Acorns offers three levels of membership:
Lite: $1 a month. Includes a taxable investment account.
Personal: $3 a month. Adds on an individual retirement account and a checking account.
Family: $5 a month. Includes everything in the lower tiers, plus Acorns Early, which lets you open investment accounts for kids.
With that many options, you're sure to find something that will work best for you. Acorns is best for those who have a hard time wrapping their heads around savings. It virtually transfer money for you to save , of course after you set it up. It is also help for custodial accounts for kids. What a full proof way to start saving for your kids. It seamless.
Acorns allows you to invest lump sums manually or set up recurring deposits on a daily, weekly or monthly basis. Lump-sum transfers may be as small as $5.
The only thing better than building an investment portfolio out of a bunch of spare change is building an investment portfolio out of someone else's money. Acorns' Found Money program essentially lets you do that: It's cash back for your investment account.
Acorns has partnered with more than 350 companies — including Airbnb, Warby Parker, Walmart, Nike and Sephora — to give you cash back when you use a linked payment method at one of the partners. In most cases, you get the cash back automatically, without an additional step. You simply use a card linked to an active Acorns account to make the purchase, and the Found Money rewards will usually land in your account in 60 to 120 days.
3. Stash is another great savings app. It is a personal finance app that can help anyone improve their financial life. It breaks whole investments down into smaller, more affordable pieces called fractional shares. Fractional shares of most investments are available on our platform starting at 1¢, and you can buy a piece of any stock or fund with shares priced at more than $1,000 per share starting with just 5¢.
To get started with the stash app, you must:
Answer a few questions
When you first join Stash, we'll get to know you by asking some questions. These help us understand your financial goals and provide you with useful advice for everything from budgeting to investing.
Pick a plan
Then, you'll pick your subscription plan, starting at just $1/month.†
With Stash, you always get access to investing. You can pick between the many different types of accounts that they offer. That can be a personal brokerage account, online banking, budgeting and saving tools, the Stock-back card, and advice and education. Depending on the plan you choose, you can also add an IRA and custodial investment account for kids.There really is many different options to help you grow financially. The only thing you have to do is start.
Add money to Stash
You can add money to Stash in two ways: direct deposit or linking another bank account to make recurring or one time transfers.
Bank, budget, and create goals
Use their bank account  and automatic budgeting and saving tools to organize your cash into different spaces, create goals, and track your spending.
Invest in fractional shares
Once you've added cash to invest, you can immediately start investing in fractional shared of thousands of stocks and ETF's with $1 or less. Stash is built for long-term investing, not day-trading, so they only trade during four trading windows every day. (Note: Availability of trading windows is dependent on market conditions and may be subject to limitations.)
Earn stock rewards
Spend with your virtual or physical  Stock back card to start earning pieces of stock from Stash as rewards for your everyday spending.
Between bills, loans and everyday purchases, life can get expensive. But thanks to technology, we have access to a range of money saving apps built to help us cut down on costs, sweep our spare change into savings and help us invest. The pandemic has created a lot of uncertainty in the job market and people's ability to save like they once did. Apps like those mentioned are here to help you simplify your life and put something aside for a rainy day. For most of us, this year has given lots of rainy days.